MyAccount move in
If a consumer or existing customer is moving into one of the properties you supply a service too, they can easily get connected by using the move in form.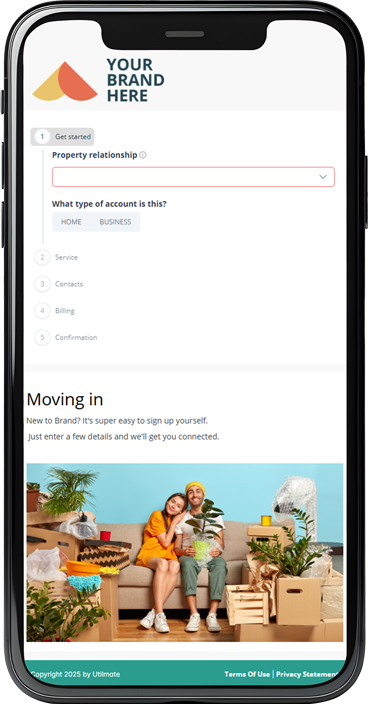 Type of account
Service info
Address - users enter their address which they want to connect your service by typing the building or street name. Utilmate searches your database of properties to locate the property. If you prefer to use Google address lookup, please let us know.
Service start date - allows users to choose the current day and forward dates.
Life support
Concession cardholder
Contact info
First name
Last name
Date of birth
Email
Mobile number
Phone number
Identification - drivers license or passport
Business name - business account
Trading name - business account
ABN number - business account
Phone number - business account
Email - business account
Add contact - allows for a second contact to be on the account
Billing info
Billing option - email or post
Billing address
Set up a direct debit
Confirmation
The confirmation tab displays the entered details and allows the user to edit fields if the information has been entered incorrectly. It also lists your fine print paying attention to pricing information, invoice delivery and payment frequency and payment options.
Once the user ticks the privacy and credit policy and terms and conditions checkboxes and hits the move in button, the form submission is automatically sent to Utilmate and listed in Calls & Activites ready for your action.