Run Scheduled Tasks
Run Scheduled Tasks is located in the widget section of the dashboard screen and are bulk processes that can either be scheduled to run, or manually run at any time. This includes:
Interfaces
Transaction and Invoicing tasks
There are two types of scheduled tasks that can be run from this screen.
Interfaces
Interfaces allow the user to import or export data including:
You can either save the file into the OneDrive/Google Drive folder or use the upload button to upload the interface file.
Once the file is in the Google Drive/OneDrive location or has been successfully uploaded, select the scheduled tasks you would like to run, then click Run button. This will instantly import any import files sitting in the import directory.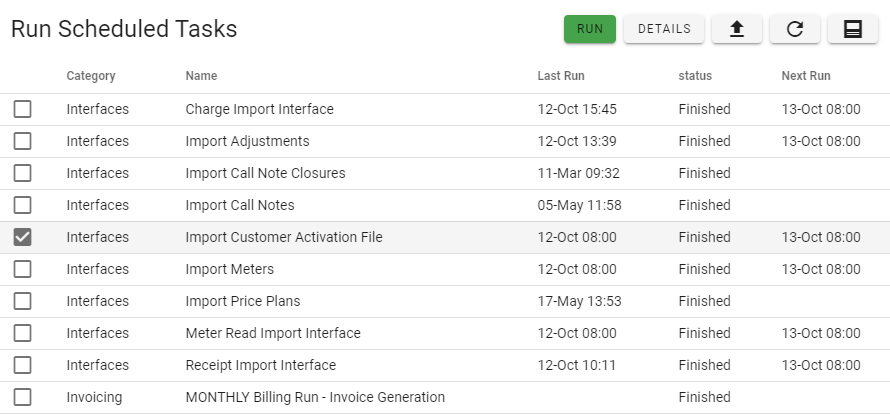 Tip: During the printing process, you can see how many invoices have been printed and how many remain to be printed when this process is running.

Transactions and Invoicing
This allows the user to run the transaction, invoicing and emailing scheduled tasks. Select the scheduled tasks you would like to run, then click Run button. This will generate transactions, printing invoice PDF's and place emails in your email queue.
Note: Depending on the size of the interface file or the size of the invoicing run, a scheduled task may take a few minutes to complete. You can use the Refresh button to keep an eye on progress by monitoring the Status.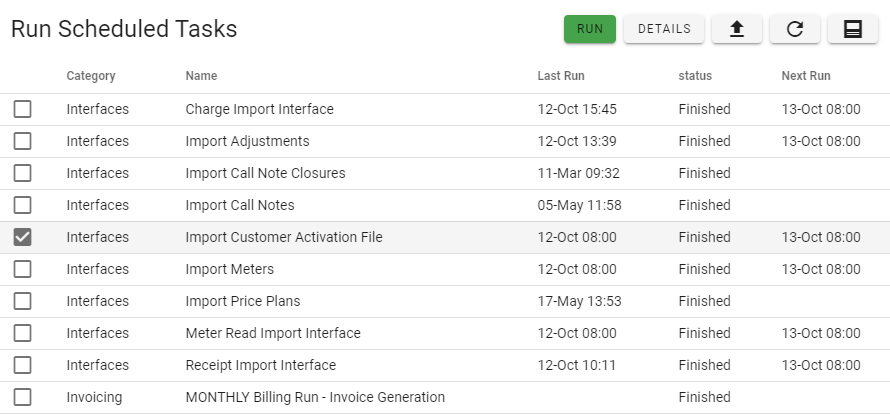 Tip: From time to time, scheduled tasks can error with the most common reason being an incorrectly structured import file. You'll see the Last Run Status as ERROR in this instance. You can drill into the log by clicking on the Log button to see full details on why the error occured.