Unbilled Transactions
Unbilled Transactions are located in the processes section of the Dashboard screen.

There are three types of transaction information available - Summary, Details, and Exceptions. The default screen is the Summary mode.
In the drop-down box, select your type of transaction information.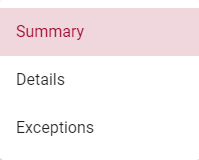 Summary mode
Summary mode displays the usage and dollar totals for each account.
Detail mode
Detail mode displays the individual transactions.
Note: If a red exclamation mark is shown in the summary or detail screen, you can see that the account has a billing exception associated with it (and will not progress to invoicing). Click on this to take you to the billing exceptions for this account.
Billing Exceptions mode
Billing Exceptions mode displays all unapproved billing exceptions.
Tip: All three reports can be exported to Excel by clicking on the Excel icon.