Stripe credit card payment
Credit cards are one of the most popular ways to pay online. Connecting Utilmate to Stripe lets your customers make payments directly from their invoice or through the MyAccount portal.
All your credit card transactions are validated and authorised in real-time with payments on invoices updated automatically, and funds deposited in your account.
You can also take customer payments through CRM (see telephone payment below). Utilmate will capture the CRM username to allow easier review and auditing of payments made directly by customers vs those done by CRM users.
Important: Credit card details are held in your Stripe account and not in Utilmate.
Guest payment (MyAccount not logged in)
You can provide your customers with a link to your MyAccount Pay My Bill page to make an instant payment as a guest. All they need to do is enter their account number and click the "verify" button to make the payment. The verify button polls CRM to check that it's a valid account number or sales customer number.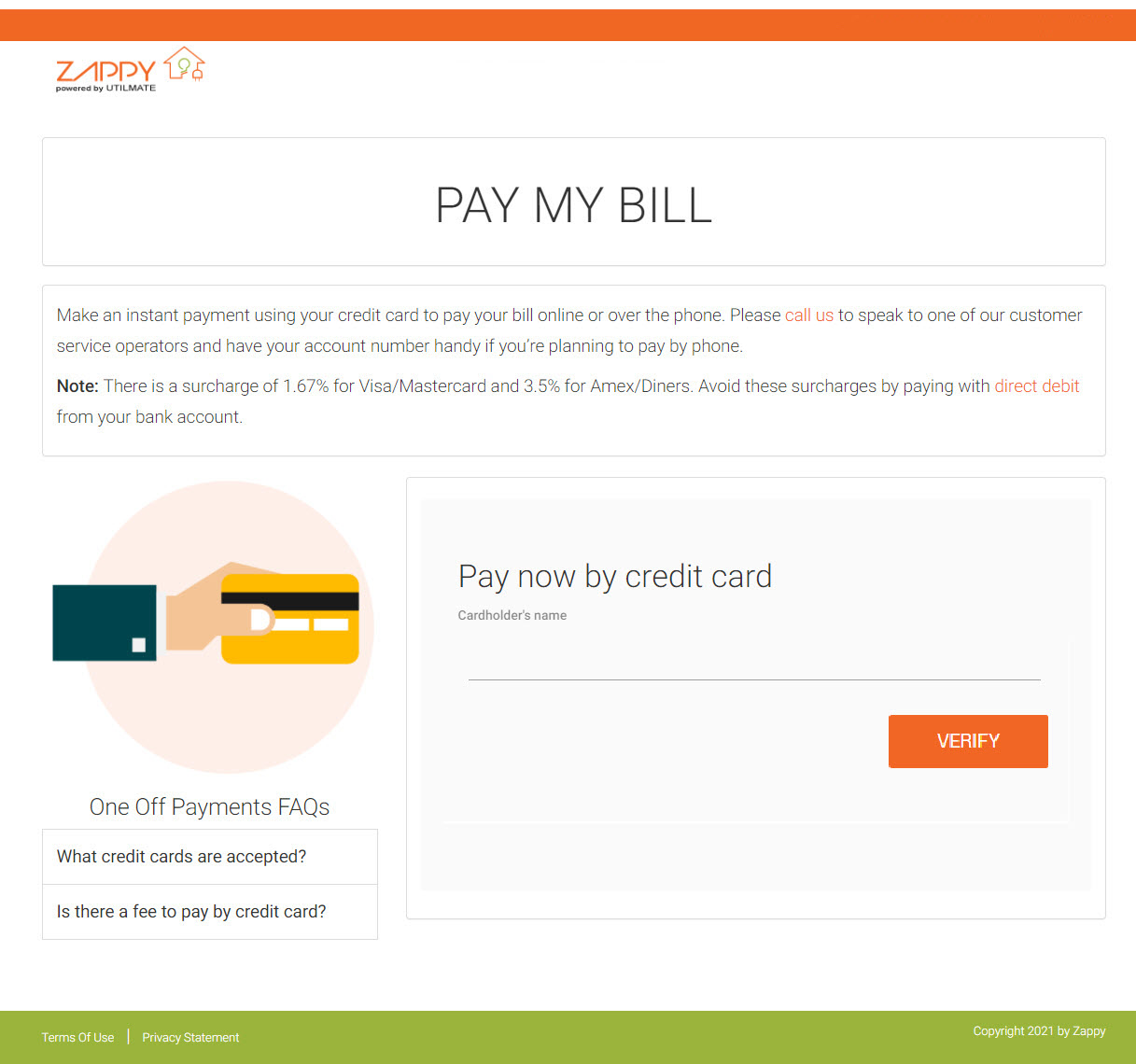 Registered payment (MyAccount Logged in)
If your customer is logged in to your MyAccount portal, they can navigate to the Pay My Bill page under the Billing & Payment menu item. The amount that is due will be automatically populated in the Amount field.
Once the payment has been made, your customer may receive an email receipt. Log a support ticket if you would this feature.
Telephone payment
You can take credit card payments from your customers over the phone.
Go to Accounts Receivable, Transaction List, and select Credit Card payment from the Receipt Actions dropdown list. This will open the MyAccount Pay Now page in a new browser tab. The account number and amount due will be auto-populated, as well as the CRM username.
Tip: If you are passing on the credit card fees, don't forget to mention this to your customer.